Piazza Passport Fan Packages for fans over 21, free admission and fun soccer-related activities for those supporters under 12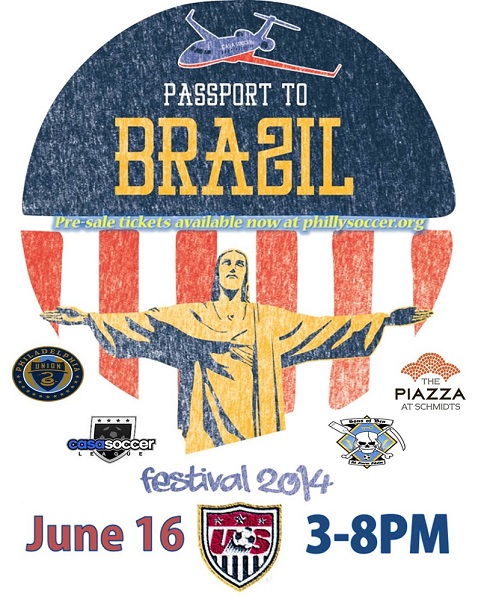 On Monday, June 16th join the Philadelphia Union, the Sons of Ben and the Casa Soccer League for Philadelphia's USA Soccer Passport to Brazil Festival at the Piazza at Schmidts (1001 N. 2nd Street Philadelphia, PA 19123).

The Philadelphia Union accompanied by your favorite star players will be joining in the fun as a leading event partner and bringing with them their "mobile tour", complete with inflatables and fun games and give a ways! 

Get there early for the limited FREE PARKING available and enjoy the pre-game tailgating games, a DJ spinning from 3-5pm, as well as many other local soccer related activities for fans of all ages!


Fans will also have the chance to enjoy watching the game with some of their favorite Philadelphia Union players in what will be the ultimate USA Soccer watch party experience !  Pre-game and halftime festivities include a special dedication to the Kensington Soccer Club from Casa and Dicks Sporting Goods and will feature a full halftime report from Philadelphia Union players & staff.
 
Major League Soccer's premier supporters' club, the Sons of Ben, will be working alongside Casa and the Union to ensure the event has a distinctly Philly feel to it. 
In addition to the fine food establishments the Piazza already offers, food trucks from around the city will be parking inside the Piazza and serving up delicious fare to suit all tastes and needs. Crabbys Café, Gunners Run and PYT will make sure no one goes thirsty and PYT will be offering a VIP experience to select fans in the form of a special World Cup-themed burger.

Apart from the food and fun, various vendors such as Philadelphia Union official team store supplier, Angelo's Soccer Corner and Live Breathe Futbol will be showcasing their summer collection. Soccer Shots, a leader in youth soccer development, will offer a free clinic to children from ages 2 to 8 years old! 
SUPPORT OUR BOYS IN BRAZIL!



PIAZZA PASSPORT FAN PACKAGES

Tickets range from $5 to $60 and are available. Below, you can select the ticket that best suits your level of enthusiasm for the USA Soccer Team!

Keep your wristbands to get into post game parties! 


Pre-order ended at Midnight.  Tickets will be sold at the door.  I BELIEVE THAT WE WILL WIN!